Interested in working with me 1:1?
If we work together, you will be challenged to both receive the results
you desire all while being challenged to question everything about who you are
so you can let go of anything that doesn't serve you and step into the
full, radiant power of your authenticity.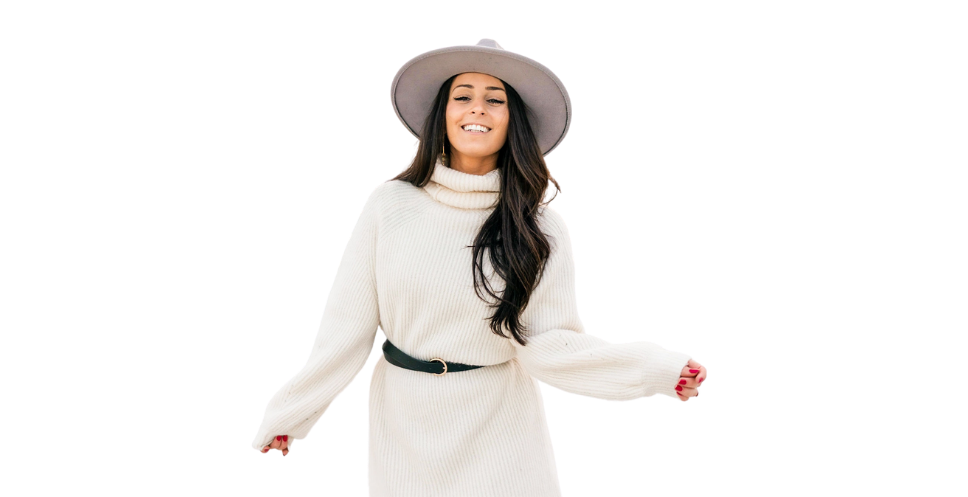 Hi, I'm so glad you made it here.
The best coach-client relationships are those in which both parties connect on a human-to-human level first and foremost. Secondarily, I need to be able to solve your problem--and you need to be a person for whom I'm excited to help solve those problems.
Working with me in this capacity means you'll be subjecting yourself to experience that may or may not have you looking at yourself in an entirely new way, while receiving targeted and strategic solutions that are customized based on who you are. Side effects may include a bigger bank account, an increased sense of fulfillment, and more energy--physically, emotionally, and spiritually.
That said: please read through this page to discover more about me (and decide whether or not you like me--no judgment if not) and see if what I can offer is what you are looking for. Sound good?
A bit about me:
I'm a small-town girl from Rhode Island who moved to Los Angeles at the age of 21 for fun with a friend, which turned into competing in a lot of fitness competitions while documenting my life on YouTube. I began my online business shortly after deciding Nursing wasn't for me, and doubled (or tripled) my revenue every year for the consecutive three years (2015-2018).

I'm an Enneagram 9, Projector on the Human Design, and a Cancer-Sun, Libra-Rising, and Aquarius-Moon. This essentially means I'm deeply intuitive and connected to my feelings, and can masterfully pinpoint solutions when I'm fully seen and heard. My ego-structure is set up to avoid conflict out of fear of feeling like who I am is wrong, but my greatest gift and contribution to the world has come from healing that and recognizing that authenticity is everything.
My study of self has led me from being a full-time "insta-famous" fitness influencer to a successful online business coach, podcast host, and 7-figure entrepreneur. When I seemingly succeeded at every goal I set out to make but burned out along the way, my self-discovery process led me to the Spiritual Psychology Program at the University of Santa Monica.
Here, I am in my second year discovering therapeutic and psychological healing modalities that connect me to my inner-most authenticity, beyond my conditioning, while honoring my human experience. This has allowed me to go deeper with clients, connecting them to the lessons and self-awareness that business-building catalyzes. As much as I'm absolutely a professional who knows her shit (see below: street cred), I'm forever a student who is still growing, learning, and expanding.
I created the Entrepreneurial Archetype Quiz in January of 2020 as a gift to the world that I would have loved going along my business journey. The theory allows each entrepreneur to become more aware of their inner template of values, desires, strengths, weaknesses, core wounding, and deepest motivations--allowing them to have permission to be who they are. This is the exact thing I would've wanted four years ago, after many moments of trying to fit myself into certain entrepreneurial boxes and either judging myself, burning out, losing energy or simply not seeing my most abundant path.
7 Figure Business in 2018 and 2019 

Multiple 6-figures in 2016 and 2017
STUDIED BUSINESS AND MARKETING UNDER:

Lewis Howes

Scott Oldford

John Romaniello

NXT LVL Consulting Group [Australia]
4 YEARS OF EXPERIENCE:

Filling up 1:1 Coaching

Starting, Building, and Scaling Group Coaching 

250+ clients in my High-Ticket group coaching programs 

Hiring and paying coaches

Social Media Expert [all platforms]

Podcast [6+ million downloads]

Email Marketing 

Brand Pivoting

Personal Branding

Organic Marketing

Copywriting and Sales Page Building

Team Building, Hiring, Company Culture
6 YEARS OF EXPERIENCE WITH:

Instagram [480k followers]

YouTube [225k followers - 25 million views]

Social Media
1 YEAR CREDENTIAL

Spiritual Psychology Certified [Soul Centered Living 1: University of Santa Monica]
DO NOT HIRE ME FOR:

Facebook Ads

Deep digital marketing
WANNA WORK TOGETHER?
Click the button to apply and submit your request!