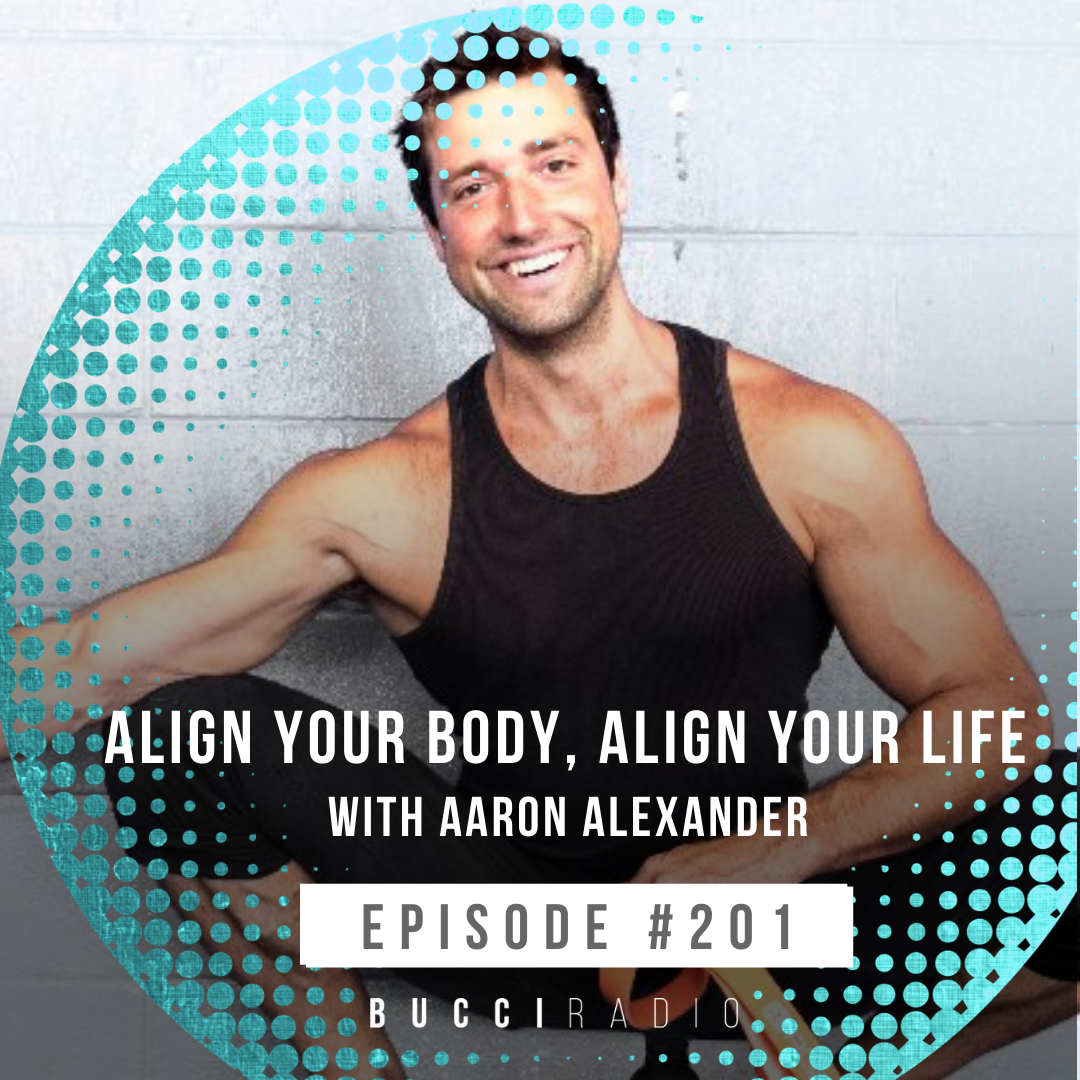 Episode 201: Align Your Body, Align Your Life – with Aaron Alexander
Welcome to this episode of Bucci Radio!
The body is a self-healing, self tuning mechanism and organism, but most people don't walk through the world and life with an aligned body. The body is designed to sustain itself long term, but our lives today are not designed the same. With technology and screen time, we've taken many natural components of our world out.
Today's guest is Aaron Alexander, the host of the Aligned Podcast. Becoming his friend was one of the best things to happen to my health. In this episode, we discuss the wisdom of the body, how to use our natural world to put ourselves into a healing state, how we continually anchor and inhabit ourselves into different states of being, subtle components to enhance your life, and creating positive feedback loops.
You can find Aaron Alexander's book at: Thealignedbook.com and check out his podcast and follow him on Instagram @alignpodcast
IMPORTANT MOMENTS:
5:26- In your book, you talk about the way our body is set up to sustain itself long term. Can you talk about the wisdom of the body and how it's designed for us to live?
20:00- How we are missing movement and nature in our current lifestyle/the meaning of physical postures
33:00- What are some natural tools we can utilize and things we can do to create shifts in our lives?
40:00- What are some simple things we can do to improve our daily environment? #floorculture
56:00- What are some ways we can bring people together and build a tribe energy?
63:00- Where can people find you and your book?
Find out the details of the episode by listening to the full Bucci Radio episode on Spotify,  iTunes, Google Play
<iframe style="border: none" src="//html5-player.libsyn.com/embed/episode/id/12727379/height/90/theme/custom/thumbnail/yes/direction/backward/render-playlist/no/custom-color/c3b3c8/" height="90″ width="100%" scrolling="no" allowfullscreen webkitallowfullscreen mozallowfullscreen oallowfullscreen msallowfullscreen></iframe>