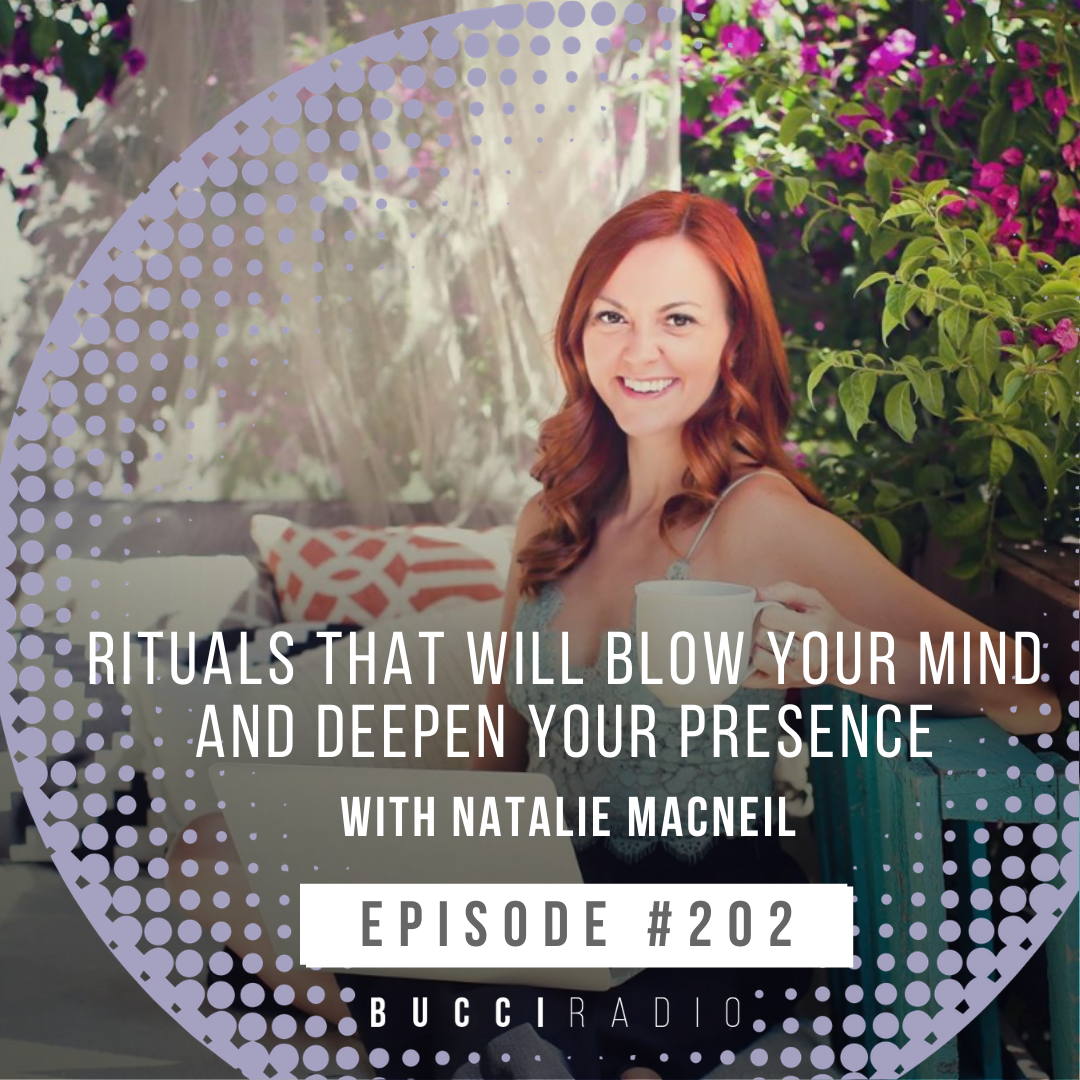 Episode 202: Rituals That Will Blow Your Mind and Deepen Your Presence – with Natalie MacNeil
Welcome to this episode of Bucci Radio!
Today's episode is different than any other episode we've ever had. How many of us have read books or resources on the habits of successful people thinking that if we followed their steps, we would get the same results? We take on the habits of other people because we want to emulate their success, instead of carving our own path. In reality, many of our habits are no longer serving us and are keeping us on auto-pilot.
Today's guest is Natalie Macneil. Natalie is an Emmy award-winning entrepreneur, best selling author, and creator of "She Takes on the World", one of the top sites for female entrepreneurs. She's also an expert on meditation, hypnosis, and has coached thousands of people. She's a leader for moving into the new paradigm and new way of being.
Today we discuss Natalie's new book, The Rituals, and cover rituals vs. habits, embodiment over mindset, and aliveness over automation, importance of breathwork, and how to create our own rituals alone and in a community.
To get Natalie's book: nataliemacneil.com/theritualsbook
IMPORTANT MOMENTS:
6:17: How Natalie started The Rituals and began practicing rituals in her own life.
11:15: We dive into the difference between habits and rituals
15:20- What does Natalie see as the new paradigm or way of being?
18:50- Natalie's favorite/top stories or experiences and rituals that have made her feel most alive
28:00- What ritual and movement /being in our bodies does for us
30:00- What does embodiment really mean? How does it feel?
33:00- Natalie guides us through a meditation on getting present in your body
39:00- Digging into breathwork- Natalie shares what type of breathwork she loves most
48:00- What happens when you override? Natalie tells us her experiences in using her practices to stop overriding.
52:00- Natalie shares rituals for when you're alone, and rituals that are part of a tribe or community
Find out the details of the episode by listening to the full Bucci Radio episode on Spotify,  iTunes, Google Play
<iframe style="border: none" src="//html5-player.libsyn.com/embed/episode/id/12823391/height/90/theme/custom/thumbnail/yes/direction/backward/render-playlist/no/custom-color/c3b3c8/" height="90″ width="100%" scrolling="no" allowfullscreen webkitallowfullscreen mozallowfullscreen oallowfullscreen msallowfullscreen></iframe>