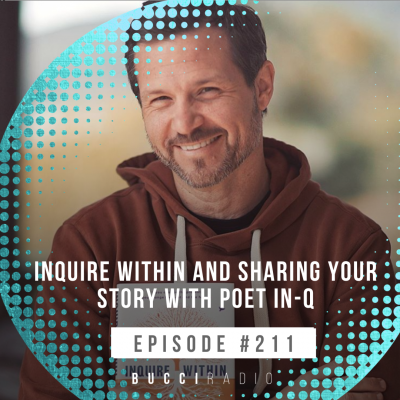 Episode 211: Inquire Within and Sharing Your Story – with Famous Poet In-Q
Welcome to this episode of Bucci Radio!
Everyone is going through something. You never know how something you say or do affects someone. As humans, sometimes it's easy to forget that we are never alone in our experience, even though we can often feel that way. Sharing our vulnerability and stories is a way that we can connect. Every single one of us has the power to share our story with the platforms we have available today.
Today's guest is an award-winning poet, songwriter, National Slam Poetry Champion, teacher of storytelling, and soulful leader known as In-Q.  In today's episode, we discuss how poetry and artistry activates people into taking action and feeling like they are not alone, how vulnerability connects us as humans, consumerism and outside validation, sharing from a place of your own truth, and being present with gratitude.
https://in-q.com/inquirewithin/ or find In-q on Instagram @inqlife
IMPORTANT MOMENTS
[6:36] Discussing storytelling and the power of sharing your story
[8:38] In-q  discusses his story and shares a story that was most powerful in his healing journey
[19:23] The power of vulnerability
[28:17] The issue of consumerism and outside validation
[32:00] In-q discusses creating from a place of your own truth vs. creating monetization or what we think people want.
[33:54 ]In-q shares a poem about home.
[42:00] In-q talks about how we experience poetry and the process of creating his book.
[46:01] Feeling present with gratitude
[48:05] In-q shares a poem about climate change and our political sphere.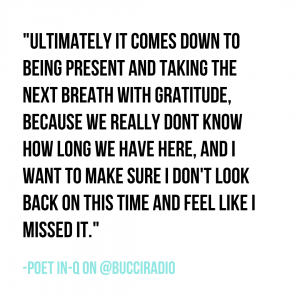 Find out the details of the episode by listening to the full Bucci Radio episode on Spotify,  iTunes, Google Play