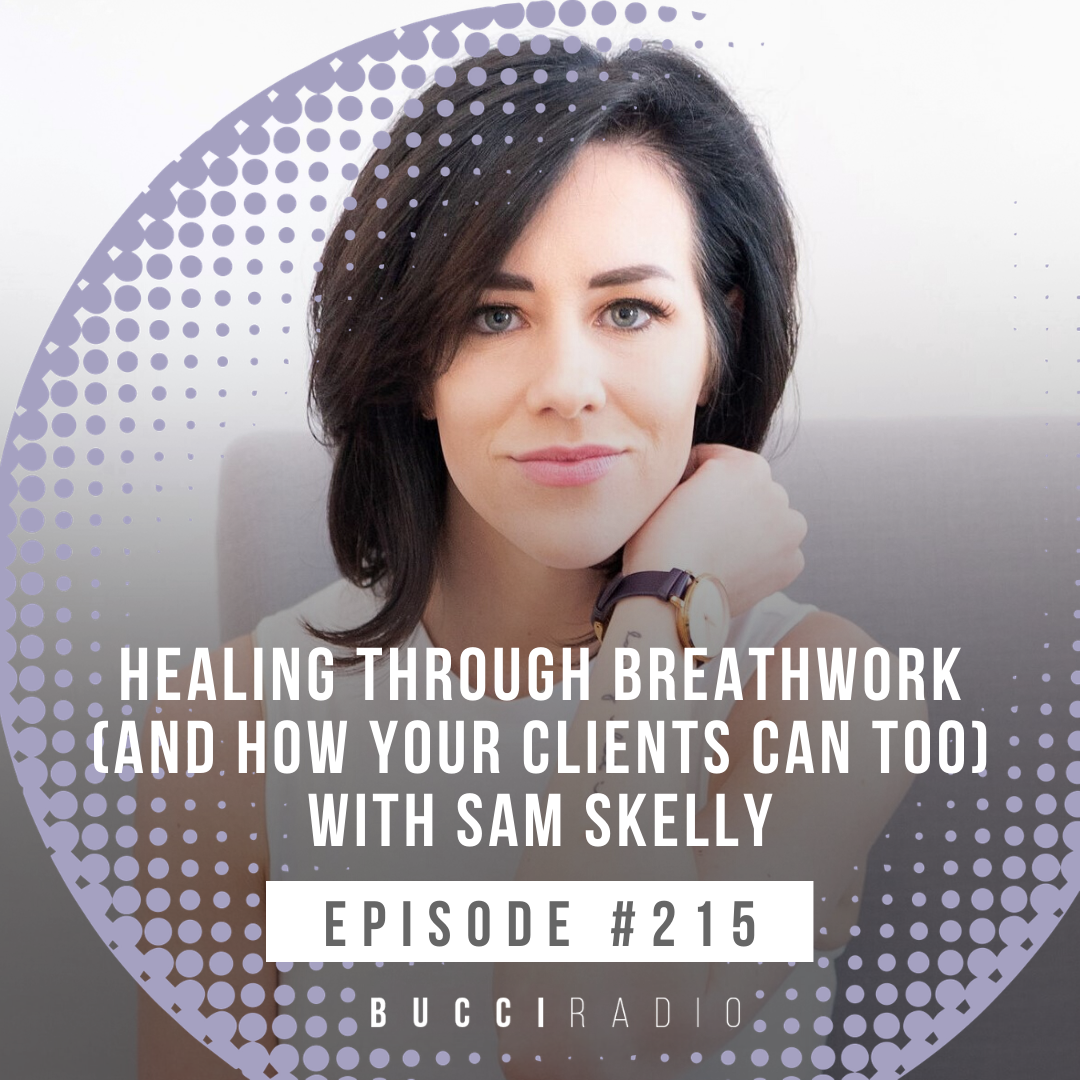 Episode 215: Healing Through Breathwork (And How Your Clients Can Too) with Sam Skelly
Welcome to this SOLO episode of Bucci Radio!
Our breath is the one tool we always have available to us to connect inward, unhook from the mind, and transform. Breathwork can break down barriers, illusions of separation, judgments, and help us connect to our own being as the pure souls that we are. If you've never experienced the power of breathwork (or are looking to enhance your ability to transform your clients) this episode is for you.
Our guest today is Sam Skelly–a wonderful friend of mine and founder of both Hungry for Happiness and Pause Breathwork. Her work helps people learn how to do the most basic human things: eat, breathe, and feel.
In today's' episode, we discuss what breathwork is, how we can use it in our lives, the benefits and common misconceptions, the difference between personal development and embodiment, why it's important to be certified in order to teach or lead breathwork, and what getting certified for breathwork looks like.
To become a Breathwork Facilitator and Enhance your work with your clients, apply for The Pause Breathwork Facilitator Program at >>> http://www.pausebreathwork.com/bucci (put my name on your application!) <<<
IMPORTANT MOMENTS
[2:00] Sam discusses what made her realize she needed to create a breathwork company
[3:37] Amanda and Sam discusses what breathwork is through a story and her background in discovering it
]12:18] Sam discusses the 3 pillars of connection and intuition
[14:13] How breathwork works in our brain and our body
[17:15] What is personal development and embodiment?
[19:49] What are some misconceptions people have about breathwork?
[23:00] How do we get coaches to utilize tools like breathwork? Why is it important to have a certification like this?
[29:00] What can happen if someone is using breathwork when they shouldn't be and why it's unsafe to anyone to do breathwork without proper training
[32:00] Sam walks us through her program on how to become a Breathwork Facilitator
Find out the details of the episode by listening to the full Bucci Radio episode on Spotify,  iTunes, Google Play