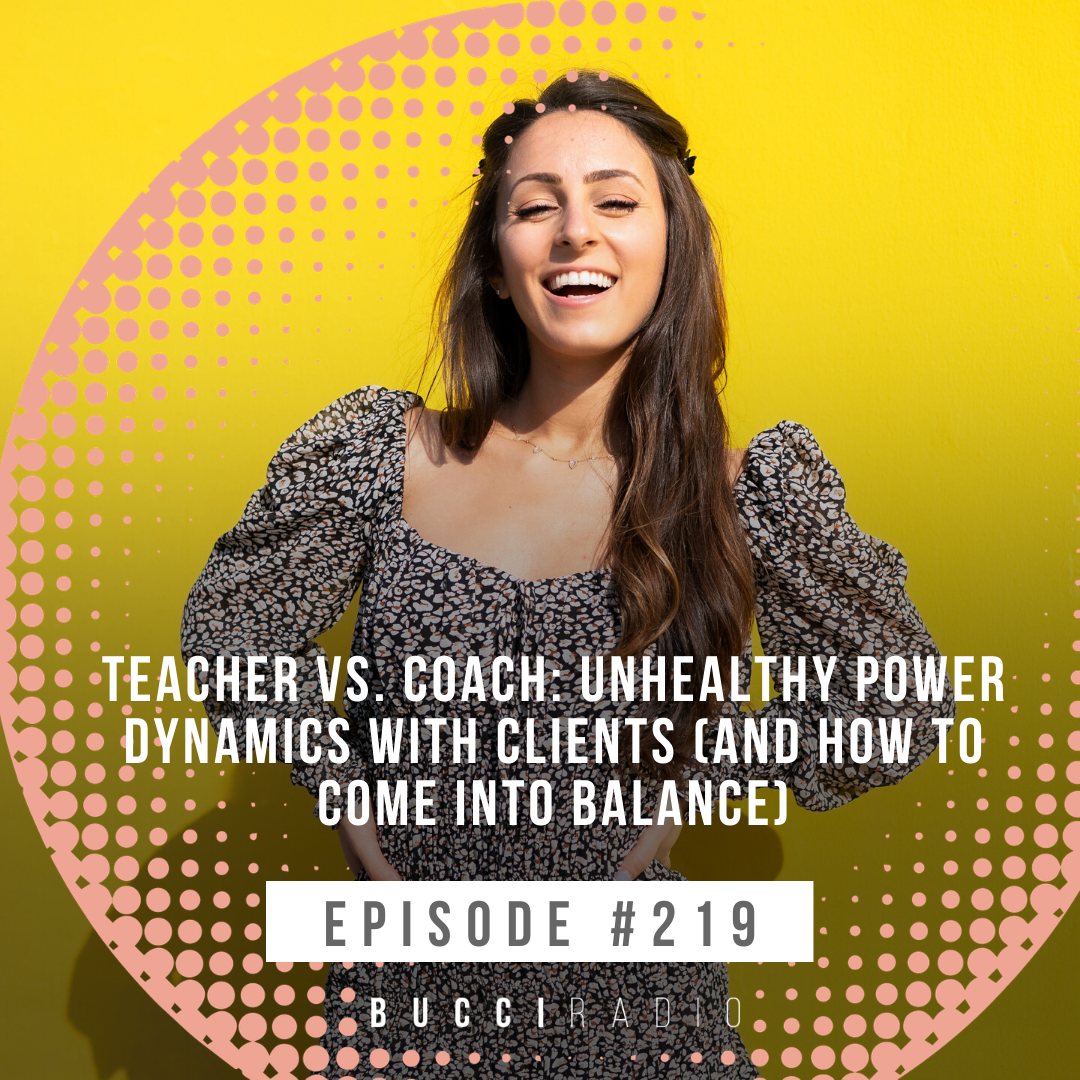 Episode 219: TEACHER vs. COACH: Unhealthy Power Dynamics with Clients (and How to Come Into Balance)
Welcome to this episode of Bucci Radio!
Today, we're here to talk about two Entrepreneurial Archetypes–The Teacher and The Coach. The Teacher and the Coach can show up both a healthy dynamic and an unhealthy dynamic, and both of these Archetypes can get into the healthier dynamic by using lessons from the other. When you are integrating these two archetypes into your work and practice, you can charge exactly what you want and clients will be ready and willing to pay. 
In today's episode, we break down the shadow-side of the Coach and how to call upon the teacher to create balance; and vice versa.
Learning about the shadow sides of these Archetypes, the inner child needs, boundaries the Coach and Teacher can implement, how to better communicate with clients, and create powerful relationship dynamics between you and your clients/audience will make you unstoppable.
To take the Entrepreneurial Archetype Quiz and find out your Archetype, visit: www.entrepreneurialarchetype.com
For Four Sigmatic using our discount code, visit: www.foursigmatic.com/bucci
IMPORTANT MOMENTS:
[5:34] Diving into the Teacher Archetype

[7:07] How we view the Teachers

[9:54] How the Teacher can come across to others

[11:54] How you might experience the Teacher as a client

[15:00] The persona the Teacher likes to create

[19:24] Diving into the Coach Archetype

[21:38] When the Coach is unhealthy

[24:00] The main goal of the Coach/Client relationship

[25:31] How the client experiences the Coach

[27:00] Boundaries for the Coach and the Teacher
Find out the details of the episode by listening to the full Bucci Radio episode on Spotify,  iTunes, Google Play