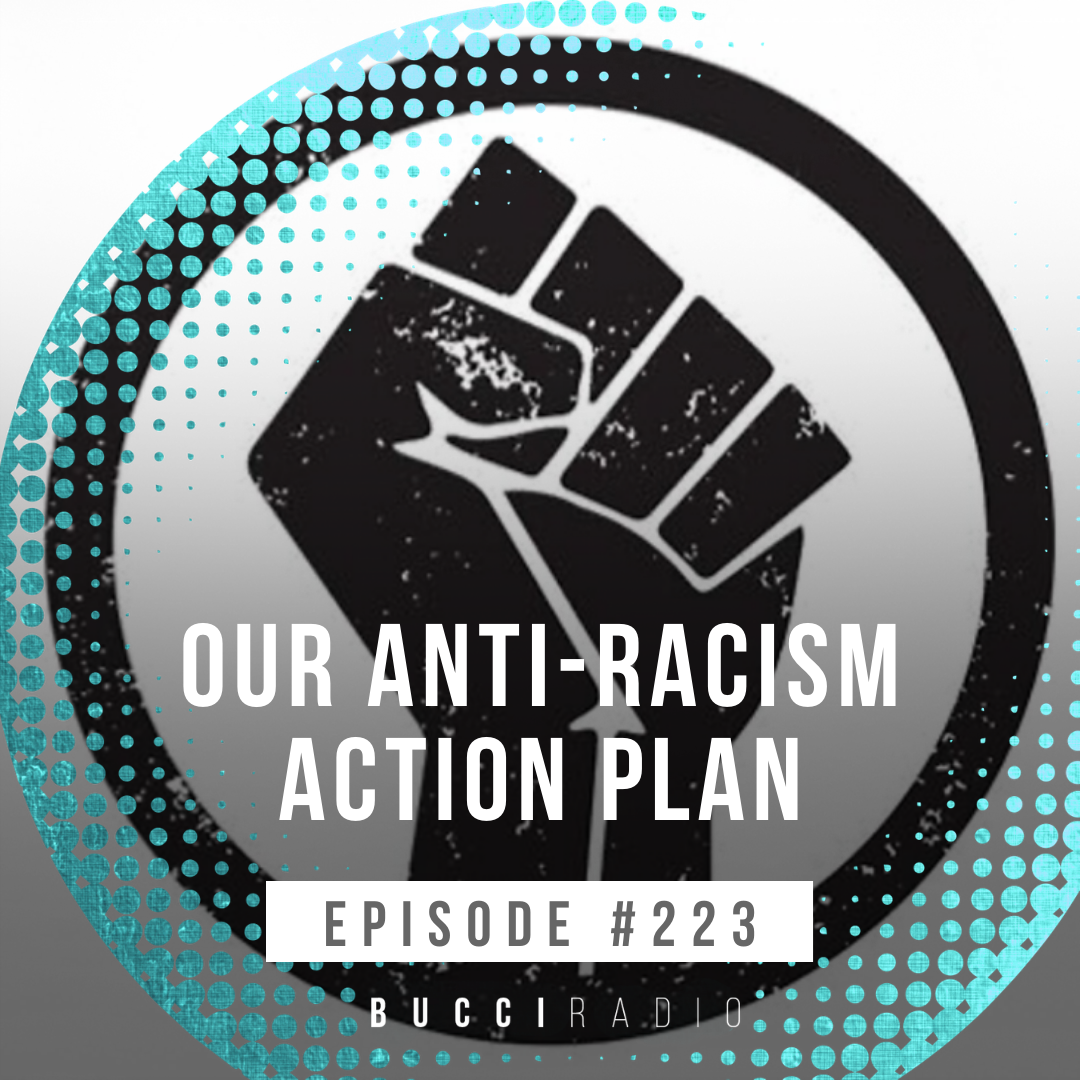 Episode 223: Our Anti-Racism Action Plan
Welcome to this episode of Bucci Radio!
In this solo episode, I discuss my and my teams action plan for how we are going to move forward as anti-racist allies now and into the future. I'm looking forward to walking you through what we are doing internally to truly integrate these plans moving forward.
We walk through a transparent awareness of where I was at in my own process when everything began unfolding around the time of George Floyd's death, where I've made mistakes in the past, my plan within my team structure, on my platform, within collaborations, and in my personal life.
OUR PLAN
Team:
Conscious and Diverse Hiring for future team members

Diversity + Inclusivity Mentorship with Trudi LeBron

Conscious Spending on Black-Owned Businesses
Collaborations:
Saying no to speaking at events that don't have a diverse lineup

Connecting with and amplifying the voices of black creators, educators, and coaches
Platform: 
Using my influence to share about Black Lives Matter on my podcast, stories, feed, and email.

Using my influence and voice to advocate for BIPOC and do the emotional labor online when there are racist, white supremacist, or racially charged posts from others.
Business Systems:
Creating a trauma-informed and consent-based sales and marketing process

Reviewing and editing marketing language and materials to ensure experiences of BIPOC are included, acknowledged, or displayed.

Re-Writing and Stating our company values:
Internal and External Transformation
Open Communication and Safety
Personal:
Having The Racism Conversations with White friends, colleagues, and family members

Personal inner work on dismantling my own white supremacy biases and racial prejudices

Transparently sharing where I'm at personally as I integrate more anti-racism lessons and learn more about my own patterns that perpetuate white supremacy.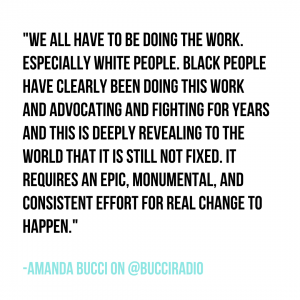 MOMENTS
[6:07] Amanda discusses how she grew up and her privileged experience

[11:29] Amanda discusses staying in her comfort zone and not doing work to create more inclusion

[15:00] Different types of activism

[18:23] How anti-racism work has felt "hard" because we are not used to it

[21:00] Collectivism vs individualism

[21:56] Amanda goes through her team action plan inside of the business

[24:00] Spending habits and buying and investing in Black owned businesses

[30:40] Emotional capacity and using yours to speak up

[32:00] How Amanda plans on bringing on more podcast guests to reflect diversity

36:00- How Amanda plans on managing future collaborations

[40:00] Sales and Marketing consent

[44:19] Educating others and showing up

[48:43] How Amanda plans on being more transparent in her life and business

[50:55] Some new team values and approaches moving forward

Resources: 
Anti-Racism for Beginners: www.antiracismforbeginners.com
Racism Scale: www.racismscale.weebly.com
Me and White Supremacy: https://www.meandwhitesupremacybook.com/
Why Are All the Black Kids Sitting Together in the Cafeteria?
The Color of Law: A Forgotten History of How Our Government Segregated America.
Show Up and Serve for White Coaches 
Spiritual Activism 101: Anti-Racism and other anti-racism resources